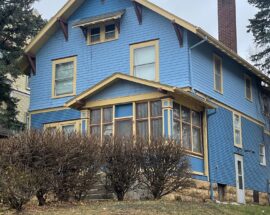 SOLD
Owner: Mark Halverson Estate
Location: 133 Lincoln St. Mankato, MN
Real Estate Features:
"Project Home" located in the Historic Lincoln Park Area.
This 2 story home features 3 beds, 2 car detached garage, French doors, an open stair case, a fireplace, natural woodwork and walk up attic.
Year Built: 1913                            Lot Size: 50×118
Taxes: TBD                                    County Paracel # R01.09.18.301.009
TERMS: $5,000 down day of Auction from highest bidder. Balance due on or before January 15, 2023 date of closing.
$50,000 Starting bid.
Partial List of Auction Items:
Motorcycles and Special Items
BMW 750cc ABS 1990; 1983 Honda Silver Wing 650 GL; 1984 Honda CB700 Nighthawk; Leinenkugel's "Honey Weiss" Canoe; (Leinenkugel launched only just a thousand yellow canoes to mark their 7th annual Leinie Lodge Family Reunion in 2010.)
INSTUMENTS
Yamaha Elec. Guitar RGX112 with case; Global Elec. Base Guitar; Lyle 6 String acoustic; Austin Elec. Guitar; Applause Acoustic guitar; Trombone; Trumpet; Saxophone; Speakers and Sound Equipment; Reel to Reel Tape player; and stereo components too numerous to list.
Paper items and Posters; and more……….
Antiques and Collectables:
Series Marion Anderson Mankato Prints; 20 gal. Western Stoneware Crock; Railroad Books and Memorabilia; Set Minnesota History Books; Dancing Bear picture; Stoneware jug; Carvings; Old Clock and Radios; Nemadji Indian Pottery; Floor lamps; Railroad Lanterns and memorabilia; Mankato Print ""Execution of the 38 Sioux Indians" Print; Paper memorabilia; Top Hat; Brass hardware; Wood Shaft Golf club; hand tools; Floor model Radio; Beer Steins; Budweiser Clock; Glassware; Figurines; Many Old and Limited Edition Books; Old Camera collection; Twins Memorabilia; hand painted Lamp; and much more…..
FURNITURE; and MISC:
Maple Kitchen Table Carved Oak Bookcase; 20's Chair; Knife set; Sev. Binoculars and spotting scopes; Ear buds; Portable Air Conditioning unit; Large Flat screen TV; Household and Misc. too numerous to list….
HAVE QUESTIONS? GET IN TOUCH.
Please fill out the form below and we will be in touch shortly to discuss your exact needs.
Receive Our Upcoming Auction Alerts via Email